TRL is an independent, evidence based consultancy with decades of experience in supporting land transport providers, and influencing the development of policy and standards.
Our unique, deep knowledge, creates competitive advantage for our clients because our advice stems from three axes simultaneously: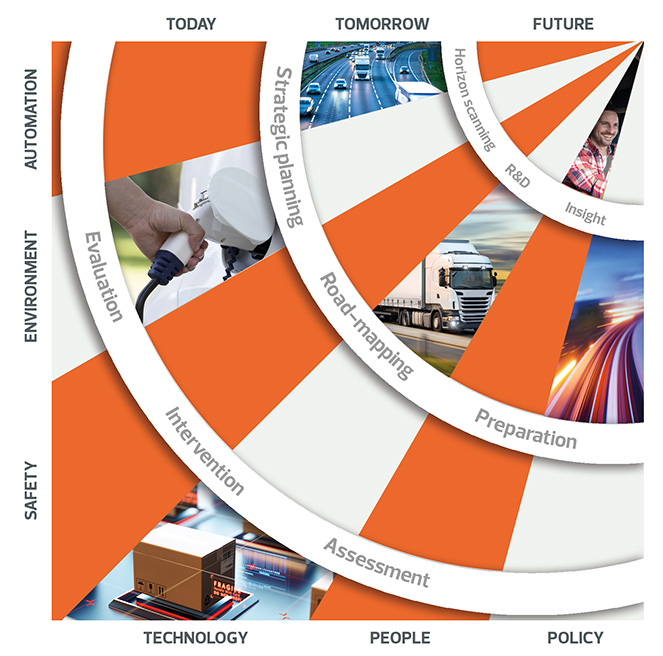 In the PRESENT, we can take action to improve your immediate position and understanding of the threats and opportunities acting upon your organisation.
LOOKING AHEAD, we can equip you to make robust near-term decisions to support building a better business.
It is the nature of our business to be always looking OVER THE HORIZON, predicting trends, testing hypotheses, and formulating insights regarding the interdependencies of the varied forces in action. We play an active role in many international arenas in influencing the impact of technology and policy on the day-to-day operations of our clients. Our insights can help with planning your long-term business strategy.
The themes of Safety, Climate Change and Digitisation of transport only make sense through the combined lenses of Technology, People, and Policy. This is the world we inhabit. This is the landscape we can describe for you and help you on your journey through it.
Why engage with TRL?
Independent and impartial advice: TRL are agnostic to vehicle OEMs, powertrains, funders and any other external influence.
Certainty of perspective: TRL invests in our own research to give us a view beyond the current horizon and understand the interplay of the market forces driving changes in the transportation sector.
Objective alignment: Our mission to create clean and efficient transport that is safe, reliable and convenient for everyone is 100% aligned with the modern fleet operator's goal to be cleaner, safer and greener.
Domain knowledge and technical capability: With 80+ years of transport research and technical advice embedded in our corporate "know-how", TRL's specialists have a depth and breadth of expertise unavailable to regular management consultants.
Exclusive insights: We regularly work for national governments, the European Commission, NGOs and industry bodies on the development of safety and emissions standards, giving us exclusive insight into the vehicle regulation roadmap (passenger cars, vans and LGVs) allowing us to predict what is actually going to happen and what the implications will be.
Proven decision support tools: In generating the evidence used to make national policy changes, we have developed robust, scalable models to calculate the impact of multiple and complex demand factors: miles driven, routes, powertrain type, energy costs, performance and efficiency KPIS.